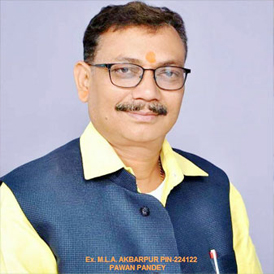 President, Rajesh Pandey College Of Law, Ex. M.L.A. Akbarpur
President Speaks (Mr. Pawan Pandey)
We seek to provide for the holistic development and welfare of each of the students in our care through academic, pastoral and spiritual undertakings. We do this by offering a comprehensive curriculum delivered by enthusiastic and committed staff. We show special concern for the disadvantaged and we make every effort to ensure that the uniquenes...
Read more
---
Manager Speaks (Mr. Nalinesh Tiwari)
Our curriculum focuses on learning from theory, followed by practical and projects. We regularly upgrade academic components to make our graduates industry ready.
This site is chiefly created to disseminate news and information about the College. It contains useful information regarding the College, various Facilities, activities and archives. Our College offers a wide variety of academic programs designed to help people succeed in life and live a life of significance through education.
(ADVOCATE) M.Sc LL.B, Manager, Rajesh Pandey College Of Law
---
---